Antônio Macedo, ainda antes dos 18, foi convidado para ser pianista de orquestra de bailes nos anos 1950. Carioca da gema, cresceu numa família musical. Quando criança, seu smartphone era um acordeon. Ganhou um piano aos 12 anos e aprendeu os segredos da harmonia com o pai, o Maestro Celso Macedo, pianista e arranjador da orquestra da Rádio Mayrink Veiga, que junto com a Rádio Nacional do Rio, dominavam o cenário musical brasileiro nessa época. Em paralelo com os estudos, trabalhou como músico profissional desde 1958 em bailes, nas boates e restaurantes dançantes de Copacabana, Praça do Lido e Beco das Garrafas. Viu nascer a bossa nova e  conviveu pessoal e musicalmente com os todos grandes nomes da música, dos "anos dourados" do Rio de Janeiro.
Em 1964 interrompeu sua carreira de músico. Formado em engenharia civil, foi fazer um mestrado no MIT (Massachusetts Institute of Technology). De lá voltou especialista em Estruturas de Concreto. Nunca mais se apresentou como músico profissional. Passou a harmonizar e assinar projetos de grandes estruturas de concreto pelo mundo.
Música só em casa ou com amigos. Mesmo assim em 1977 venceu o concurso brasileiro de teclado da Yamaha e no ano seguinte, vencedor da mesma contenda no sul-americano, foi ao Japão a convite do fabricante.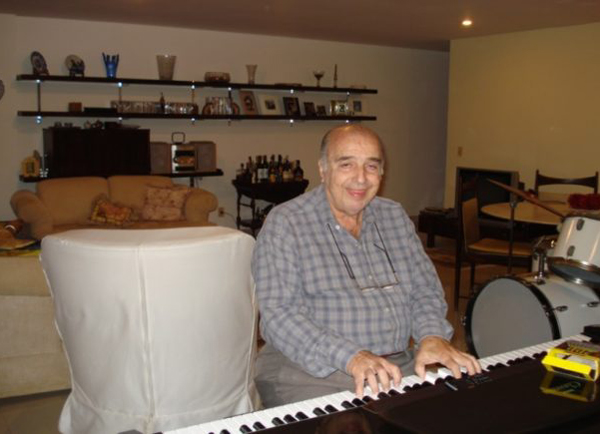 Conheci o Macedo casualmente em 2006 quando tocava com meu grupo Bossa à Beça no Weekend Club em Teresópolis – RJ. No nosso intervalo ele me pediu para tocar um pouquinho o piano. Assim que ele começou a tocar o tema "Lady be good" cancelei o meu descanso e voltei para a bateria. Logo (ou)vi que estava diante de um grande artista. Não quis perder a oportunidade de participar do som.
Desse dia em diante, tive a sorte de acompanhar Antônio Macedo em diversas oportunidades, saboreando boa música mesclada com boa companhia, algumas vezes em casa, ou em reuniões de amigos ou mesmo em apresentações nos clubes e bares do Rio e SP.
Macedo nos deixou ano passado, em 2016, "antes do combinado" como diria o mestre Boldrin. Foi reforçar o time de pianistas lá no céu. Mas aqui faz muita falta.
Texto escrito por José Roberto Rocco, o Beto, meu afilhado de casamento! (joserocco@hotmail.com)
Fotos: Regina Rocco
Infelizmente não há  nenhuma gravação do piano de Antônio Macedo, mas para homenageá-lo o Beto  escolheu uma música que nosso protagonista  tocava maravilhosamente bem,  aqui executada por Benny Goodman.
Benjamin "Benny" David Goodman  ( Chicago, 30 de maio de 1909 , Nova York , 13 de junho de 1986) foi um  clarinetista e músico de jazz americano.O "Rei do Swing", foi o primeiro músico norte-americano a criar uma banda com negros e brancos e a dar uma audição no Carnagie Hall. O som de seu clarinete encantava as todas as.pessoas que o ouviram.